Item Specification
Model / SKU : G24AB+Battery+Charger+FREE
Product DescriptionLast Updated : 2/1/2018 1:59:39 PM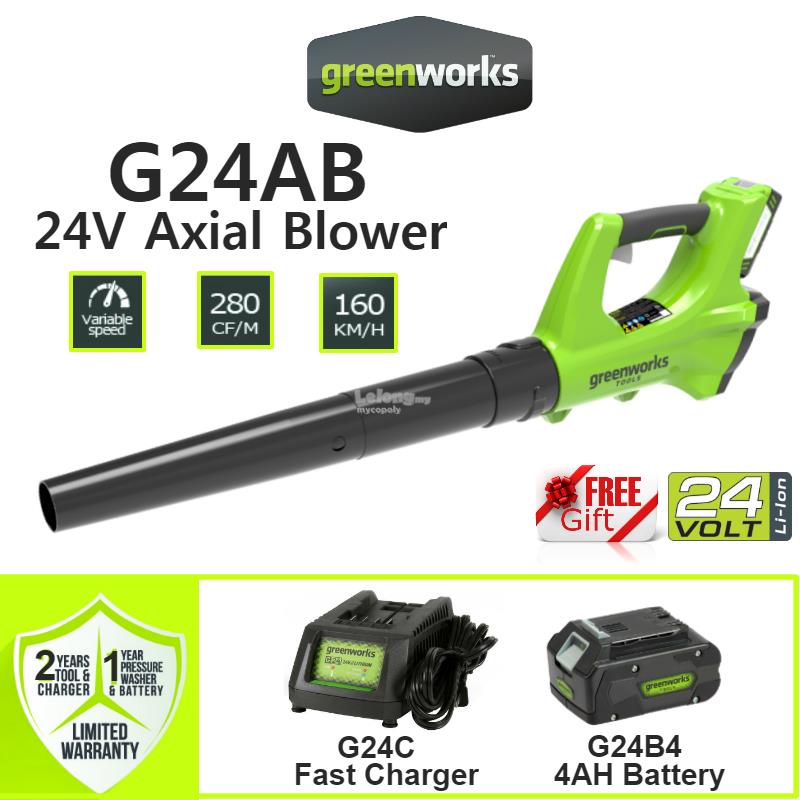 he newest model of the Greenworks G24AB is equipped with a longitudinally located engine for better performance. Listostove has two modes of speed, easy, compact and productive - 8 m 3 / min and 209 km / h airspeed.
Unlike gasoline models, an electric blower can be used indoors, it does not produce harmful exhausts and works almost silently. A comfortable rubberized handle does not slip and allows you to safely hold the tool in your hand, and a light weight of 1.5 kg guarantees a long work without fatigue.
The blower has two stages of adjusting the air flow rate. Thanks to 24 V battery power, the blower provides long battery life, and this battery is compatible with other devices from the 24V G-24 line .
Come with:
1 Pieces G24C 4.0 Ah Battery
1 Pieces G24B4 Charger
Air Flow Rate :up to 280CFM
Air Speed :160km/h
Weight :1.5kg (Exclude Battery)